Name: Homer Jay Simpson
Weight: 239
Place of Birth: Springfield
Catchphrase(s) D'oh!, Woohoo!, Mmmmmm.....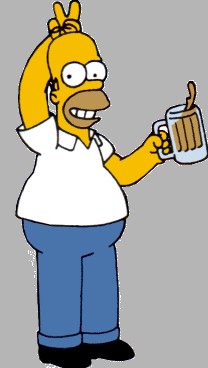 Favorite Song: "It's Raining Men"
Favorite food: Donut, Steak, Pork chops
Favorite Place: Moe's Tavern
Hobbies: Drinking & bowling
Special Talent: Hears pudding
Works at: Nuclear Power Plant
Other Jobs: Bowling Alley clerk, Mini Golf Attendant, Country singer agent, Barbershop Quartet Member, Team Mascot, Car Design Inspiration (Powell Motors), Kwik-E-Mart Clerk, Astronaut, Mr. Plow, Boxer, Hullabalooza entertainer, Technical Supervisor at the plant before becoming safety inspector, Management position at Globex, Grease entrepreneur, Executive at the power plant, Regional Krusty the Klown, Big Brother, Power plant labor union leader, Blackjack dealer, Teacher, Trucker, Engineer, Simpson and Son Aphrodisiac seller, Mayor, Sanitation Commissioner, Gulp-N-Blow clerk, Santa Claus in the Mall, Motivational Speaker, Candlemaker at Olde Springfield Towne, Slash-Co Knife Salesman, Pitiless Pup Attack Dog Trainer, Monorail Conductor, University Student, Representative at The National Energy Convention, Neighborhood Watch Leader, Juror, Caretaker at Mr Burns Remote Estate, Airline Pilot, Stonecutter's Chosen One, Patty and Selma's Servant, Limousine Driver, Town Crier, Mr Burns' PA, Voice Artist for Poochie, Beer Baron, Sugar salesman, Food critic.
Extra
Home
Trivia
Support
Contact
Buddies